Minsk, Belarus

How to get Minsk

Direct flights connect main European capitals and Minsk. The national airport Minsk 2 serve international flights from different European countries and not only. Minsk's airport located 45 km from city. Airport includes one terminal with three levels. There are different facilities in Minsk Airport: currency exchange, cafe, ATM, shops, mother and child room, information centre and etc. Here you can see map of airport. If you can't find direct flight to Minsk for your specific dates our system will offer you the best alternative connecting flights. To find accomodation in Belarus we can suggest site
otels.by
where u can find best offers and prices for hotels and hostels in Minsk and other Belarussian cities.

Direct flights in Minsk:

From Netherlands: Amsterdam - Minsk, flight duration 2 hours 30 minutes

From Kazakhstan: Nur-Sultan (Astana) - Minsk, flight duration 4 hours 25 minutes; Karaganda - Minsk, flight duration 4 hours 45 minutes; Kostanay-Minsk, flight duration 3 hours 45 minutes; Pavlodar - Minsk, flight duration 4 hours 55 minutes

From Turkmenistan: Ashgabat - Minsk, flight duration 4 hours 10 minutes

From Azerbaijan: Baku - Minsk, flight duration 3 hours 35 minutes

From Spain: Barcelona - Minsk, flight duration 3 hours 35 minutes

From Georgia: Tbilisi - Minsk, flight duration 3 hours 10 minutes; Batumi - Minsk, flight duration 2 hours 45 minutes; Kutaisi - Minsk, flight duration 2 hours 45 minutes

From Germany: Berlin - Minsk, flight duration 1 hour 45 minutes, Hanover - Minsk, flight duration 2 hours, Frankfurt-am-Main - Minsk, flight duration 2 hours 10 minutes

Lebanon: Beirut - Minsk, flight duration 3 hours 30 minutes

From Poland: Warsaw - Minsk, flight duration 1 hour and 10 minutes

From Austria: Vienna - Minsk, flight duration 1 hour 50 minutes

From Russia: Moscow - Minsk, flight duration 1 hour 20 minutes, St.Petersburg - Minsk, flight duration 1 hour 30 minutes; Ekaterinburg-Minsk, flight duration 3 hours 30 minutes; Kaliningrad - Minsk, flight duration 1 hour; Sochi - Minsk, flight duration 2 hours 20 minutes; Samara-Minsk, flight duration 2 hours 30 minutes, Novosibirsk - Minsk, flight duration 5 hours 15 minutes

From Armenia: Yerevan - Minsk, flight duration 3 hours 15 minutes

Ukraine: Kiev - Minsk flight 1 hour 5 minutes, Simferopol - Minsk, flight duration 1 hour 55 minutes

Cyprus: Larnaca - Minsk, flight duration 3 hours 20 minutes

From the UK: London - Minsk, flight duration 2 hours 55 minutes, Manchester - Minsk, flight duration 3 hours

From Italy: Milan - Minsk, flight duration 2 hours 50 minutes, Rome - Minsk, flight duration 2 hours 45 m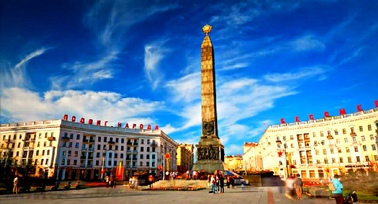 inutes

From France: Paris - Minsk, flight duration 2 hours 45 minutes

From Czech Republic: Prague - Minsk, flight duration 1 hour 45 minutes

From Latvia: Riga - Minsk, flight duration 1 hour

From Turkey: Istanbul - Minsk, flight duration 2 hours 20 minutes

From Sweden: Stockholm - Minsk, flight duration 1 hour 40 minutes

From Iran: Tehran - Minsk, flight duration 4 hours 10 minutes

From Israel: Tel Aviv - Minsk, flight duration 3 hours and 45 minutes

From Finland: Helsinki - Minsk, flight duration 1hour 25 minutes

UAE: Abu Dhabi - Minsk, flight duration 5 hours and 40 minutes

How to get Minsk centre from airport:

Buses

Buses and minivans are going from international airport to Minsk, bus station is opposite Arrival terminal (5-6 Gates). You can buy tickets from driver only for Belarusian rubles (there is currency exchange in arrival terminal in airport). Way to Minsk takes about 1 hour. From airport to Central bus station buses (N 300Э) start at 00:05, 01:45, 03:40, 04:50, 06:25, 07:20, 08:00, 09:00, 09:40, 10:20, 11:20, 12:00, 12:40, 13:20, 14:20, 15:00, 15:40, 16:20, 17:00, 17:40, 18:20, 19:00, 20:00, 20:40, 21:20, 22:05, 23:00. Minivans (N 1400-ТК (sometimes additional 1430-ТК)) at 00:30, 07:00, 07:40, 08:40, 09:20, 10:00, 10:40, 10:55, 11:10, 11:40, 12:20, 13:00, 13:40, 14:10, 14:30, 15:20, 16:00, 16:40, 17:10, 17:25, 18:00, 18:40, 19:20, 19:40, 20:20, 21:00, 21:40, 22:30, 23:30. As there are not much places in minivan you need to hurry up if you want to catch it. Ticket cost about 2 EUR. Buses are going to bus stations with stopover near first metro station in city – Uruchje.
Buses and minivans to Minsk to National airport from Central bus station start at 2.40, 3.50, 4.50, 6.05, 6.45, 7.45, 8.25, 9.05, 10.05, 10.45, 11.25, 12.05, 13.00, 13.40, 14.20, 15.00, 15.40, 16.20, 17.00, 17.40, 18.40, 19.20, 20.00, 20.45, 21.50, 22.40, 0.40.
(Updated 25/08/17)


Taxi

You can book official taxi in airport, pre book in advance or agree with private taxi. Prices will be about 15 EUR, depends on your destination point. With private taxi better negotiate the price before boarding. Travel time is about 40-50 minutes.



About Minsk

Minsk - is the capital of Belarus, although Minsk is not a very big city, its cozy atmosphere combines European trends with Soviet heritage. Mainly for foreigners Belarus and its capital Minsk - is an unexplored place on map. But after visiting Minsk you will have only positive opinion - is beautiful, clean and maintained city with simple kind people, big green parks and reach heritage. Flight duration to Minsk from most of the main European cities it's not more than 4 hours and cheap flight you can find in our site. Your visit to Belarus, it'll break all the negative thoughts that you may had from European news.

During the Second World War the city was totally destroyed, but then with help of Soviet Union it was rebuild and renewed. Despite in Minsk and its suburbs survived some old monuments full of history and architecture. In Minsk you can visit Cathedral church of Holy Spirit, that was built in 1633-1647, church of Saint Simeon and Elena built in 1905 year, the oldest Minsk's church o
f Saint Peter and Pavel, built in 1613 year, also modern Svjato-Troickaya wooden church, that was built without nails and others. Minsk is cultural city where there are a lot of museums, exhibition halls, theatres, including National Theatre of Opera and Ballet, concert halls. If you like fashionable rest in Minsk you can find a lot of cafes, bars and restaurants, night clubs, cinemas, different shopping centres and state shops with big variety of Belarusian products. The most popular souvenirs from Minsk are magnets with city appearance, handcraft from straws, sweets and vodka. Some goods are popular even abroad: Belarusian knitwear, underwear, coats from natural materials. Also in Minsk, as in all Belarus, producers are very strict with products quality: milk products as curd, yogurt, milk, cheese and different type of salami are produced only from natural stuff and have very good quality.

Main ingredient of Belarusian cuisine is potato. There are a lot of different dishes with potatoes cooked in different ways, potatoes can be in soup and salad. Most popular Belarusian dishes from potatoes are draniki (potatoes pancakes), babka, kalduni, baked potatoes with pork and mushrooms, baked pig ears.

In Minsk's suburb there are also a lot of interesting places to visit. Most popular cities are Mir and Nesvizh, where u can see interested complex of castles and parks. In Zaslavl, that is 40 minutes far away from Minsk, still are remaining churches from XVI and XIX century, in village-museum Dudutki you can learn ancient style of life for Belarusians, Stalin Line Museum is cultural-historical open air museum. In Raubichi and Silichi there are ski centres with hotels, those places are very popular to spend winter holidays.

Sights and interesting places of Minsk


Main sites of Minsk you can see in city center, a bit far located only well known National library in shake of crystal. In center you can visit museums, see churches, walk in Trinity suburb. But we'll tell you how better to spend time in Minsk in different seasons and discover places that like locals. The best time to visit Minsk (in decreasing order): summer, autumn, spring, winter; but if you live in hot country and want something new – place winter first.

Recent years the climate of Belarus has changed - summer is not so hot, the most quantity of sunny days is in July-August, also in September - early October still is warm weather. Lately snowing start only closer to the New Year, the coldest weather in Minsk is at the end of January - February, in spring until March still you can see snow. The most rainy season is October - November.

What to do in Minsk in summer

Summer is the best time to visit Minsk, so you will have a wide choice of entertainment and city full o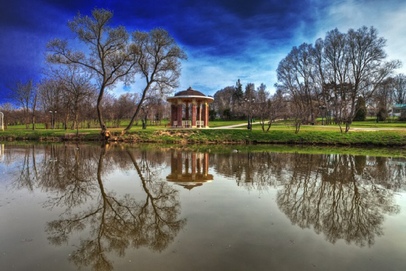 f green looks very colorful and beautiful. If you sure want to get the warm weather, plan your trip for the second half of summer. Apart the standard program as museums-monuments, you can visit parks of Minsk.

Victory Park is the most beautiful, huge and recently renovated park. You can combine walking in the park with a visit to the Stela and Museum of the Great Patriotic War. Park stretches along the Komsomolskoe lake from Masherova avenue to Orlovskaya street, in the second part of the park behind Orlovskaya located paid amusement park Dreamland. In Victory park from the side of Orlovskaya street you can walk through alleys, make exercises on one of the sports grounds, sunbathe on the beach, drink kvas in cafes, go to Bird Island. On the part from Povediteley avenue there are a lot of benches to relax near the waterfront, works beautiful fountain, there is a zone for skateboarders and playgrounds in the park. On this side also located bike path that leads very close to the lake Drozdy passing by sports complex Minsk Arena, shopping center Minsk City, a popular cafe on the UC petrol station for cyclists. If you rent a bicycle, you can drive down the Pobediteley avenue and visit a large water park, opened in 2014, or drive to the beach in Drozdy lake, which empties into the Minsk Sea (Zaslavskoye lake). Very near there is the largest market in the country - Zhdanovichi, where you can buy absolutely everything, from food, to furniture. If you come from Europe it will be an interesting experience, besides in the market there are many different cafes where you can enjoy the tasty fresh bread, delicious kebabs and barbeque.

Another large and beautiful park in Minsk - Chelyuskincev park, surrounded by fir trees. In summer it is always full of visitors of all ages. The park has many cafes, selling pancakes, drinks, etc., working artists, painters, there are variety of attractions, a Ferris wheel. Although the tallest Ferris wheel is located in Gorky Park, in the city center near the Victory Square. Tickets for attractions usually cost less than $ 1. This is state park, which is also connected to the Botanical Garden, where you can see many different plants, stroll among the beautifully decorated flower beds, walk along the alleys and make beautiful pictures near the lake.

What to do in autumn in Minsk

The beginning of autumn in Minsk is usually warm and no rain. It is still a good time for a walk through the parks, for example, you can combine a visit of Victory Square and the Eternal flame with a walk in the park Gorky along the waterfront, and then go to the October Square or walk to Nemiga. This is a great time to visit the Belarusian castles – take an excursion to the Mir Castle. Even if there is rainy weather, you can see all the exhibition halls of the castle; part of the castle works as a hotel, and you can stay there for the night. Oak furniture and natural linen materials you will bring you back the past, while the restaurant serves traditional Belarusian cuisine. You can rent a car and drive to the castle or take public bus from central Minsk bus station in the direction of Novogrudok or Korelichi (bus stop Mir AK).

Late autumn, when the leaves are yellow, take a trip to the Loshitskiy park near Chizhovsky lake. This is a large, old and impressive park, where still remain 18th-century building. And when the ground is strewn with yellow leaves - the photos are gorgeous!

What to do in the winter in Minsk

Lately real strong cold winter in Minsk lasts maximum for one or two months. The coldest time is at the end of January-February. Sometimes in winter can be very cold but blue sky and sun - very exotic weather. When the weather is bad, it's time to visit the Museum of the Great Patriotic War, museums near Nemiga – Nature House and M.Bogdanovich museum. In winter, like in the summer, you can visit a covered greenhouse in the Botanical garden, where is keeping a certain temperature for the tropical plants. There is also a small café inside. It is also a great time to visit the Opera and Ballet theater or Academic Music theatre.

In winter you can go skiing, sledding, snowboarding in one of ski centers. The closest – this is Solnechnaya Polyana in Kurasovshchina are in Minsk. Outside the Minsk you can relax and stay in hotel for night in Lagoisk, Silichi, Raubichi, Yakutskie mountains. In the indoor karting centers in Minsk, you can arrange karting competitions.

What to do in spring in Minsk

Because of the displacement of climate, spring in Minsk is pretty cool, snow starts melt at the end of March. But at this time you can go in Tsna reservoir, if the weather allows - to ride on the bike path on a bike or just walk around and enjoy the lake. From the lake you can walk to one of the largest shopping centers in Minsk Bigzz and Expobel market. There is quite close aero club and aircraft museum.

We would also recommend a trip to the open air museum Stalin Line. This is a historic complex dedicated to World War II. On site you will see a huge fortifications, military equipment, guerrilla village. You can reach the Stalin Line by public transport, if take a bus from the central bus station Minsk – Sosnoviy bor, or by car. Complex is sure worth to visit. You can also see another war memorial, located outside the city - the Mound of Glory of the Soviet Army. You can get there by shuttle bus Minsk-Smolevichy.


Minsk – is the beautiful city, the most calm from all European cities, clean and well maintained. If you love to travel and open to other cultures - Minsk will not leave you indifferent. Many foreign visitors fall in love with the capital of Belarus, and decide to move to Minsk permanently or temporarily. If you want to know the city better, to live in Minsk and learn Russian, you can enroll in Russian language course for foreigners in Minsk State Linguistic University, Belarusian State University, or buy a course in one of the private schools in the city Minsk, that becomes the basis for visa and stay in Belarus for more than 90 days a year.



Have a good time in Minsk!

Plan your holidays with
www.aviabileti.by